Static Coefficient of Friction Tester
825A SCOF Tribometer Kit
Our 825A meter, starting as the 725, was originally designed to match the C1028 50 lb. drag sled results. We did not copy it because of downfalls to the 50 lb. unit. Size, weight, and a large square Neolite pad that is prone to adhesion and other items. Over the years we have evolved and our meter has changed with the times and will continue to do so to always be reaching for the goal of being the best SCOF meter on the market. Our ever increasing customer base worldwide indicates that SCOF testing is not going away.
The 825A tests to the ANSI/NFSI B101.1-2009 and is shipped as a complete kit with all accessories included. It is also shipped as one meter of the combo DCOF and SCOF kit.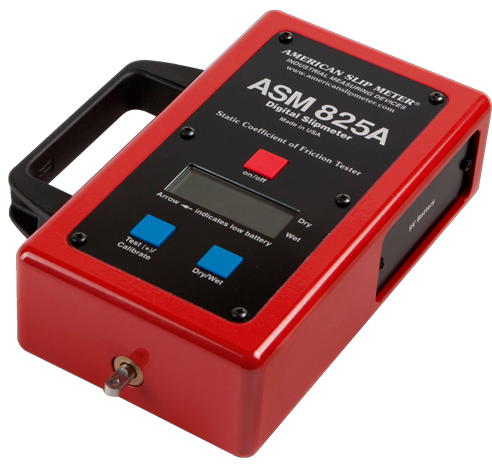 Easy To Calibrate, Easy to Use
Simple to follow instructions. Perform test in seconds. Designed for ease of operation and handling. Lightweight, complete kit is less than 8 lbs.
Reliable
One year full manufacture warranty. Precision machined base and parts. Protective powder coat finish. Gage manufactured to plus/minus 1% accuracy. Tested and calibrated prior to shipping.
It is very simple to operate as you can see from the video. There is a quick hanging calibration that weighs the unit and then it is ready to use for dry or wet testing. When wet testing the dwell time that the meter sits on the wet surface prior to applying force should be kept to a minimal amount of time. One way is to lift up on the handle so the meter is just touching on the edge of 2 of the feet verses sitting flat, then just as you are ready to apply pressure, let the meter down, apply pressure to the meter by curling your finger in towards the palm of your hand while watching the front of the meter for forward movement, once the meter moves the static test is complete. Check the display for the results.
Calibration
Test materials referenced in various ASTM and ANSI/NFSI standards. Only takes a few seconds to calibrate while in the field. Display holds the high reading until recorded. The new ASM 825A model was designed to improve accuracy and repeatability for wet testing. The meters calibrate to the NFSI test tile wet. (NFSI tile only has a wet value) without adding calibration factors.
NFSI Reference test tile
Tile Value Wet- 0.51 +/-0.05
ASM 825A Results

Results are taken after following the
operating instructions for proper preparation and testing procedures.
Complete Kit Contents
1 – ASM Slip Meter
1 – Carrying Case
1 – Instruction/Info Book
1 – Safety Log Work Sheet
1 – Accessory Container
1 – Calibration Chain
2 – Control/Activator Lines*
1 – Sensor Cleaning Brush
9 – Sensor Retainers (3 sets of feet)
9 – Neolite Sensors (3 sets)**
1 – Sheet of 400 Grit Wet/Dry
Silicon Carbide Paper
* Replacements at no charge.
** 9 sensors are glued on the sensor retainers.
The Neolite is glued on with a permanent glue now.
The previous models used a water soluble glue.
Apparatus

Horizontal Dynamometer Pull Meter
Serial No

Engraved in Meter
Weight

4.76 Lbs. With Sensors Attached
7.38 Lbs. Complete Kit/Carrying Case
Reference
Sensor and Preparation-ANSI/NFSI B101.1, B101.3
Apparatus Use-ANSI/NFSI B101.1, B101.3
Test Procedures-ANSI/NFSI B101.1, B101.3
Terminology-ANSI/NFSI B101.0, ANSI/NFSI B101.1, B101.3 ASTM F1646
Smaller and easier to use than other DCOF devices. The meter tests to the industry standards for DCOF and is designed to reduce or remove the variables between different operators using the equipment.
Combination Slip Meter Kit
Order the Combination Slip Meter Kit and Save!
You'll get the ASM 925 DCOF and the ASM 825A SCOF Meters in this one kit.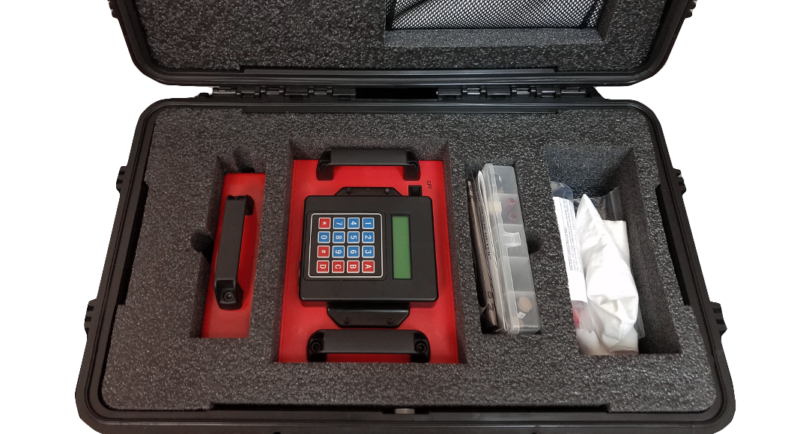 Celebrating over 25 years of slip and fall prevention!